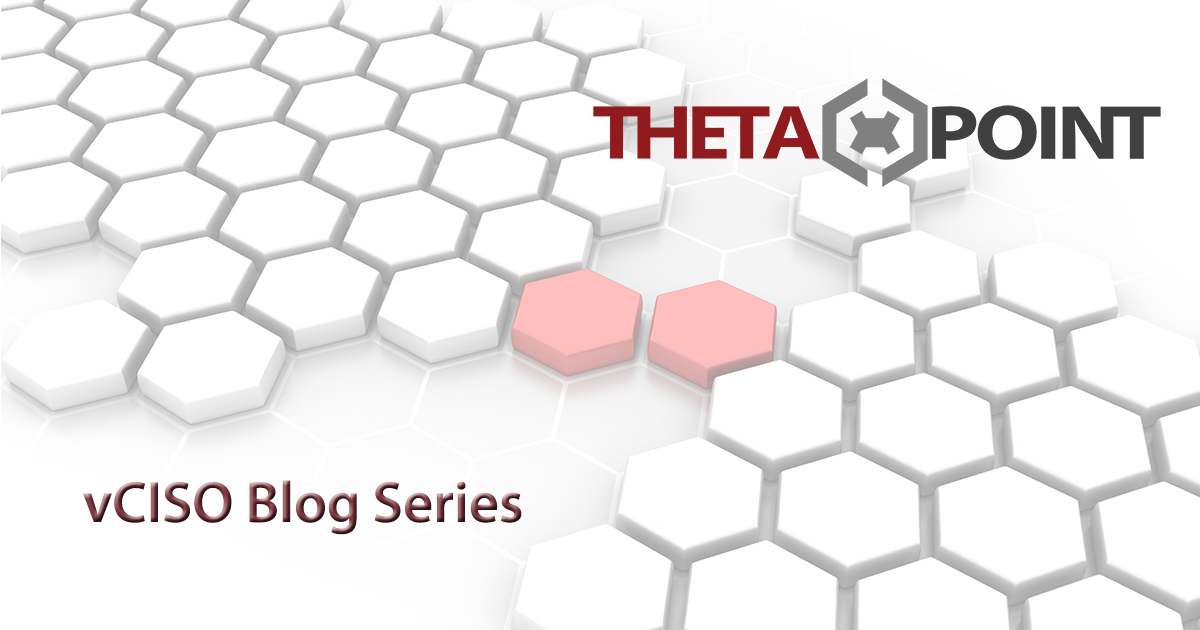 vCISO Blog Series
Introduction
Welcome to the first installment of ThetaPoint's Virtual Chief Information Security Officer's (vCISO) Blog Series. This series is a comprehensive look at how to develop an effective cybersecurity program. You will find this holistic view of cybersecurity refreshing. So, without further a due… Let us get started!
Here are the topics we will explore in this series:
Episode 1: Make Cyber Security a Team Sport
Episode 2: Understanding Your Cybersecurity Program
Episode 3: How to Level Up My Organization's Cyber Maturity Quickly
Episode 4: Resiliency is the Key to Outlasting your Opponents
Episode 5: Effective Ways to Determine your Cybersecurity Risk
Cybersecurity is a team sport. It is not about one person, one department, or one organization, it is about all of us working together to create a safe and secure environment for the future. Basketball players spend the entire off-season working out, eating properly, and preparing themselves mentally. However, they do not do it alone, they rely on coaches, nutritionists, psychologists, massage therapists and personal trainers to help them achieve peak performance. In this article, we will cover how to build an effective and solid cybersecurity strategy that will help you protect your organization from cyberattacks.
Episode 2: Understanding Your Cybersecurity Program
The cybersecurity program is your entire information security methodology around people, processes, and technologies. This is everything that protects the critical and non-critical aspects of your business. Whether it be unsecured databases, unpatched servers, or untrained users getting successfully phished, having an effective cybersecurity program can mitigate these issues.
Episode 3: How to Level Up My Organization's Cyber Maturity Quickly
Cybersecurity Maturity is a topic that has been gaining traction in the past few years. The increase in the number of cyberattacks and data breaches has led to a greater awareness about this issue and more people are now taking it seriously.
This article will help you understand how to level up your organization's cybersecurity maturity quickly. We will discuss:
Steps to take before you start your journey
What needs to be done at each stage
How to measure success and get there
ThetaPoint will provide you with a set of cybersecurity best practices that can help you to level up your organization's cybersecurity maturity quickly like:
Strengthening or creating your cybersecurity governance process. This process should include an assessment, security policy review, and an incident response plan review.
Build awareness and understanding across the organization about the importance of cybersecurity.
Develop competencies to ensure that every staff member has the skills they need for their role in the organization's cybersecurity program.
A mature organization is ready to defend against today's and tomorrow's threats.
Episode 4: Resiliency is Key to Outlasting your Opponents
Cyber Resiliency is the ability to withstand a cyber-attack and not be significantly impacted. It includes the ability to detect, respond, and recover from an attack. This is "Key to Outlasting Your Opponents" because it is a key component of business continuity. Give your team a "Bend don't break" mentality by supporting and increasing your organization's cyber resiliency.
Episode 5: Effective Ways to Determine your Cybersecurity Risk
In this blog article, we will learn about the best ways to determine your cybersecurity risk. There are diverse ways to do this, but some of the most effective are using a business impact analysis report and a security risk assessment.
A business impact analysis (BIA) report is a document that outlines the potential consequences of a cyber-attack on an organization's assets. These reports can be used for both individual business owners and IT professionals to understand the risks posed by cyber threats. They provide information about what could happen if there is a successful cyber-attack on an organization's systems and how much it would cost to prevent that from happening. An impact report also includes what protective measures are in place as well as what could be done to reduce the likelihood of an attack or its severity if one does occur.
A security risk assessment, on the other hand, is a more technical process that involves assessing vulnerabilities within an organization's internal and external networks and systems to identify any potential weaknesses that could be exploited by threat actors.
About ThetaPoint
ThetaPoint is a leading provider of strategic consulting and managed security services. We help clients plan, build and run successful SIEM and Log Management platforms and work with the leading technology providers to properly align capabilities to client's needs. Recognized for our unique technical experience, in addition to our ability to quickly and rapidly solve complex customer challenges, ThetaPoint partners with some of the largest and most demanding clients in the commercial and public sector. For more information, visit www.theta-point.com or follow us on Twitter or Linked-In.