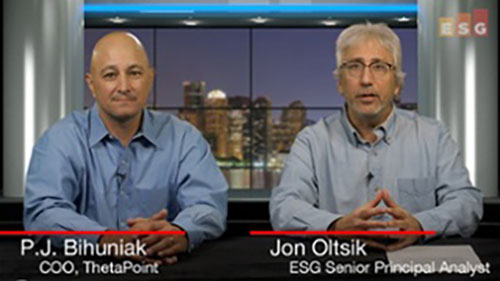 SOAPA Video with ESG
ThetaPoint Provides Insight into Emerging SOAPA Needs
ALBUQUERQUE, NM. – November 1, 2017 – I had the pleasure to sit down with Senior Analyst, Jon Oltsik recently for a two-part series. We talked about SOAPA (Security Operations Analytics Platform Architecture), the relevance to Security operations today and some common pitfalls organizations step into related to improving security effectiveness.

Pressed for time? The key points of Part 1 are:
Security has been reactionary, leading to:

Underutilized security investments
Lack of cohesive strategy for effective security operations
Significant skills gaps to combat today's cyber security attack vectors

Organizations are collecting too much event data often with little understanding of the risk associated with doing so. ThetaPoint suggests a top-down end in mind approach.
This video can be found at: http://www.esg-global.com/blog/soapa-video-with-thetapoint-part-1
Part 2 of the video is about 8 minutes long. But if you like to go immediately to the last page of the book to see what happened, read the key takeaways below:
The SIEM is still critical to effective Security Operations
Integrating into a SIEM is necessary, but make sure you have an end in mind
Integration without a proper plan, strategy, or vision will lead to one of those pitfalls
Clients are clamoring for a vendor agnostic approach to security architecture, ThetaPoint can help
The intersection between Public and Private organizations is the perfect breeding ground for a SOAPA standard.
We expect the cybersecurity skills shortage to not disappear anytime soon and organizations will be seeking Architecture, Engineering and Operations and Maintenance support. ThetaPoint is uniquely positioned to provide this type of service and expertise to organizations of all sizes.
This video can be found at: http://www.esg-global.com/blog/soapa-video-with-thetapoint-part-2
About ThetaPoint, Inc.
ThetaPoint is a leading provider of strategic consulting and managed security services. We help clients plan, build and run successful SIEM and Log Management platforms and work with the leading technology providers to properly align capabilities to clients needs. Recognized for our unique technical experience, in addition to our ability to quickly and rapidly solve complex customer challenges, ThetaPoint partners with some of the largest and most demanding clients in the commercial and public sector. For more information, visit www.theta-point.com or follow us on Twitter or Linked-In.